Managing key change events is both exciting and challenging. Major change can transform the way businesses operate and serve their customers bringing new opportunities and often large benefits which for larger organisations can exceed £100m+. James Open shares his thoughts and examples of managing key change events.
A change programme's perceived success is often dictated by the initial launch. There have been many that have inadvertently created problems and disruption for colleagues and customers.
Having worked with great organisations and lead some challenging changes such as:
Acquisition, dual running and integration of a major UK airline
A major airline successfully joining global airline alliance
Major London Airport Terminal consolidation and new aircraft operations – A380 and 747
The major airline Terminal moves
Major airline IT Network changes across Europe
Integration and consolidation of services for four European airlines with a global footprint
Airport demerger and subsequent business improvement
Commercial transformation that halved operating costs, increased bookings, improved recovery SLAs by 95%
We have established 12 "golden rules" to successfully managing Key Change events.
1. Clear Objectives and Scope
Large complex programmes can seem overwhelming and progression often hinges on a clear set of objectives. Distil all the information down to a 1-page list of deliverables adding an action word to these which helps further clarify what needs to be done. Sub deliverables can be added to this.
Example: Move 7 Long Haul Routes to Terminal X by 28th October 2020
Prepare terminal for 747 operations
Inform Customers of the changes to bookings already made by 31st July
Develop a pop up on Booking management to inform and remind customers of the new terminal
Check by contacting 50 Gold customers and completing a booking by the project team
Keeping a clear set of deliverables and scope (approved by Leadership team) and utilising change control mitigates scope creep.
2. Gap Analysis
Undertake a gap analysis to understand what is impacted and the detail of what needs to be done to successfully achieve the objectives. This was one of the most successful tools in preparing the Major airline to join the global alliance.
This exercise took the joining requirements (ranging from frequent-flyer, lounge, check-in, safety standards) and mapped where the Major airline was currently. As an established, full-service airline, they were already compliant in many areas but others such as adjustments to livery required more work.
Having a detailed list of requirements (in this case over 100) was effective in articulating the gaps. Therefore actions and detailed scope for the project to work on.
3. Create a working group for managing key change events
Whilst most departments on a programme form workstreams to plan their area's changes, an area that is key to the successful go-live needs to form a readiness working group. This is aside from the main programme board or governance and is focused on the practicalities of the change event. Looking at what actions need to be completed and the impact on staff. This needs to do what it says on the tin. A group of people that come together to work through what needs to be done, address challenges, resolve issues, suggest improvements – it is not a talking shop.
All the projects we have worked on have benefited from "end-user" representation and engagement. These champions from pilots, crew, engineers, operational centre, check-in staff, aircraft turnaround teams. More are crucial in determining if a change can be achieved, garner cross-functional support for each other and sometimes drive further benefits and efficiency. Changes in one area can often have implications for another.
Example: Department office moves
Property and IT may wish to move office locations to a new facility. However, for people getting to work this could now require a bus journey from the car park or a walk through uncovered paths or areas that do not feel safe. The outputs of the working group include a readiness status, go-no-go decisions, trial and test reports, comms and support for users post the go-live event.
4. Actionable checklists
Given the changes events we have worked on have had operational, staff and customer service implications, it is essential that the risks and interruptions are kept to a minimum. For instance, the working group form a one-page list of actionable items that need to be completed. This is especially useful for managing changes with multiple locations with a similar set of steps. It also makes it easier to track how ready each location is for the change by checking which actionable items are still outstanding.
With the major airline IT change network we undertook a significant programme of Airport IT upgrades. We utilised actionable checklists to ensure the equipment was shipped to locations, engineers booked, cabling in place, cutover bridges setup and onsite communications and approvals agreed.
5. War-gaming
For contingency planning and business resilience, we conduct scenario-based desktop exercises. This ensures the change will be work in different circumstances. Key to this is to also include business continuity events in the scenarios as well as some challenges for the business stakeholder. In short, this proves they can complete the required tasks to recover the situation.
Example: The first flight of a new route to open to New York
Challenge 1: A customer feels unwell and is unable to travel. The bags are onboard. How are these retrieved and reunited with the customer?
Challenge 2: The aircraft develops a technical fault, how will this be fixed? How will the engineer get to the aircraft in the new location?
Challenge 3: The aircraft is not able to fly. What are the options for an alternative aircraft? How will the crew, passenger's baggage cargo and catering be moved to the replacement?
Challenge 4: The replacement aircraft has 40 fewer seats, including 20 less flat beds. How will the downgrades and offloads be sensitively handled?
Challenge 5: When approaching New York, the weather worsens, and the plane has to divert. What airports are we going to divert to? What airports are agreements in place to support customers? Where are there suitable onward flights or hotels?
Challenge 6: Just ahead of the first flight there is a system failure. How will the passengers be checked in, boarded and their bags loaded to ensure successful departure and arrival?
These types of scenarios often bring up revisions to contracts or access to contingency equipment and are essential in ensuring if the worst does happen that the processes are in place to support customers and staff in challenging times.
6. Testing and Trials for managing key change events
A key element of readiness is ensuring all component parts of the change work successfully, and when brought together, work in harmony.
Example: Airport readiness with many factors to test and trial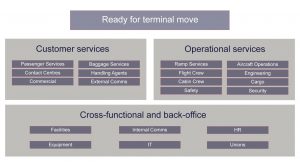 Trials may include testing the following:
a single bag
then a whole flight
then mixed flights
transfer bags
large baggage (eg skis)
late bags
bags at departure gate too large for the cabin
missed bags
different national requirements and more.
Testing end to end is important to ensure readiness for go-live. A testing and trials programme is important to establish assurance that we are ready for the change.
7. "Early Live" Testing
Creating dummy flights and test scenarios with airport and airline staff whilst valuable. It does not depict the reality of day to day life at the airport.
Example of "early live" testing
Those working on the change may already be well aware of how to navigate their ways to the gates; how to use a new check-in machine; and how to find the lounges and may not be representative of the behaviour of customers or of colleagues not yet familiar with the changes. Therefore running a live operational flight or service in the new areas with customers is highly valuable. As a result, this ensures the systems work correctly in a live environment as some system integrations cannot be replicated in test environments.
In these situations, additional support and monitoring is available to ensure customers are not impacted. This fully tests all systems and processes and has proved valuable in improving wayfinding signage and spotting any gaps in communications plans. We have run such trials ranging from a 32-seat aircraft through to 450 seat A380 as well as call centres.
Gaining approval for these trials is often challenging. Senior management, comms departments and other stakeholders are unsure of the likelihood of success. However, when it is articulated, the valuable outcomes of the trials and the risks that are mitigated away from day one. As a result, we are able to attain agreement usually with useful guidance and constraints.
A live flight gains real interest from all stakeholders and suppliers and has been used as a catalyst to see that change is coming and to instil confidence for the end-users. There are additional benefits of "early live" testing. In this case, we also moved entire routes early which enabled training and a controlled environment to build up to day one.
8. Cutover Management
Whilst having a bigger number of smaller changes reduces risk, there are changes which can only be done as a "big bang".
Example of cutover management
Terminal infrastructure at the airport swapped with another airline. For such an event the airlines involved, the airport authority and their suppliers need to be fully aligned and clear of the expectations for the change. It is important to pull together representatives from all stakeholders and form clear time-specific plans for the cutover. This needs to be war-gamed in advance and discussed in detail to avoid any conflicts. For example: ensuring that if you were moving equipment that the area being moved to was vacated at a similar time.
For the cutover of the major airline terminal moves, we developed a plan in 5-minute increments which was tracked and monitored to ensure progress.  This included access to CCTV and teams on various locations reporting back to the "control hub". This was manned for several hours before during and after the change to ensure the change was successfully delivered. Similarly, for the cutover of the ERP rollout across 11 operating units we developed a plan in 10-minute increments. This was tracked and monitored 24/7 with regular reports. There were proactive escalation procedures to catch potential issues early and put in place recovery that would safeguard the cutover.
9. Cutover Contingency for managing key change events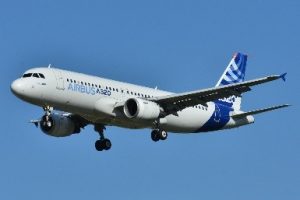 During cutover, there are numerous risks for which mitigation and contingency needs to be put in place. In the case of an airport move, one of the biggest risks is of customers arriving at the wrong terminal. This could be due to not receiving or absorbing the terminal change notification communication. Or, simply turning up at the terminal the airline has always operated from. There are many ways of travelling to the airport and a large stakeholder group to communicate with. Working together with airport authorities to support with communication to local taxi firms, coach and bus companies, car parks, train operators and the highways agency to ensure signage is updated and customer-facing colleagues briefed.
However, having people to support customers or users at the time of the change is key to ensuring exceptions are identified and dealt with quickly. In the case of terminal moves, we ensured additional support with office-based team wearing tabards to assist customers. In the case of IT network changes we have "floor walkers" proactively checking with users.
If the customers did arrive at the wrong terminals, plans were put in place to ensure they could be swiftly transported to the other location. This included taking measures such as proactive maintenance on inter-terminal trains. This ensured they were in full service in the change window, contingency coaches in case there were issues and relaxing measures such as check-in times to ensure all customers could make their flights.
10. Colleague readiness
Significant change events can fundamentally change the way people work and most likely the locations they work in.
Large airports have thousands of staff. So early training (for the skills of how to do the job) and familiarisation (opportunities to work in the new locations or on the new equipment) supports colleagues with being ready for the move. Access and getting to the new locations can also be tested. This helps to assure colleagues that for the start of their shift on day one they are aware of where and how to work.
As also discussed trial flights are very helpful in building confidence. They identify further actions needed to enable colleagues to work effectively.
11. Post-change review and actions
After the change, there may be a number of issues that have come to light once large volumes of flights and customers operate in the new locations.
It's important that these issues are captured and actions and new risks are managed to resolution. Photographic evidence is useful in this situation. The escalation framework will remain in place post the change until it is agreed with senior management that the change has been successful and the readiness and transition group can be stood down. This period is often referred to as "early life support". Readiness to stand down the transition group is best assessed by having pre-agreed "early life support exit criteria".
12. Taking lessons for future changes for managing key change events
Once the change is completed lessons should be captured with useful feedback and templates utilised for further projects and changes. We have seen many new leaders who have learnt from such changes that have been able to deliver greater changes. With the reuse of materials and learnings, we have also seen the cost and timescales to deliver such changes reduced.
---
Want to know more about how our high performing programme team can help you manage key change events – get in touch.
Social Share